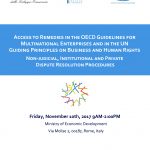 Access to Remedies in the OECD Guidelines for Multinational Enterprises and in the UN Guiding Principles on Business and Human Rights: Non-judicial, Institutional and Private Dispute Resolution Procedures
Ministry of Economic Development, Via Molise 2 – Roma
The aim of the conference, organized by the Italian National Contact Point in collaboration with ISGI – Institute for International Legal Studies, is to promote a wider dissemination to the public of the specific instances mechanism run by the National Contact Points and provided for in the OECD Guidelines for Multinational Enterprises on responsible business conduct.
The dialogue between academia, institutions and stakeholders (enterprises, trade unions, non-governamental organizations, etc.) on access to non-judicial remedies, will be an opportunity to explore opportunities for awarness raising, cooperation and future developments.

Registration to the conference is mandatory. In order to register, please send an e-mail to pcn1@mise.gov.it by Friday October the 23th, 2017, including information ad follow: name, surname, institution and contact details of the participant.
Ensuring the safety of visitors on site will be an ID check at Ministry entance located in Via Molise 2, Roma.